"Some have mistakenly argued that any variation in the retelling of the story is evidence of fabrication. To the contrary, the rich historical record enables us to learn more about this remarkable event than we could if they were less well-documented." — Richard J. Maynes, Seventy
The founder of the Mormon faith, Joseph Smith Jr., began his journey to prophet with an event that has been called "The First Vision."  When I was growing up as a young Mormon boy, I was told that Joseph knelt to pray in a grove of trees to ask God which of the many churches was true.  According to the story I was told, Joseph was visited by both Heavenly Father (God) and Jesus Christ, who told him none of the churches were true, and that he was to found a new one.
In the 17 years I was active in The LDS Church, that was the only version of the story I ever heard.  It turns out that there are many versions, with widely differing timelines and subject matters.  The LDS Church even has an official essay on the subject, and you can read them for yourself at The Joseph Smith Papers Project.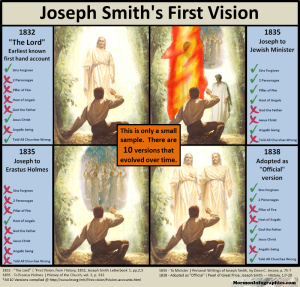 For many people, who were as ignorant to these facts as I once was, discovering this can be a bit faith-shaking.  This event is absolutely pivotal and essential in the Joseph Smith narrative, and the inconsistencies are troubling. One might think that such a momentous moment as meeting God, or God and Jesus, or an angel, or a Pillar of Fire, would be distinctly memorable.
If this is bothersome to you, let not  your heart be troubled;  Elder Richard Maynes explains how differing versions of an important story, with different dates, and different people, with different messages actually make The First Vision "the best-documented vision in history."
To demonstrate my particular reaction to this breach of logic and reason, I present my original one-act play:
The Best Documented Dinner in History
[Scene:  Interior.  A small police department interrogation room.  Two detectives (Cop #1 and Cop #2 stand at a table in front of a seated 'Gary']
Cop #1: Hey, Gary. We brought you in because someone said they saw you over by the old Buckner place last Monday, just before it was robbed. Can you tell us where you were last Monday night? At about 7:30pm?
Gary: Oh. I was at dinner.
Cop #2: Yeah? Where'd you go? Any good?
Gary: Oh, yeah. New taco restaurant. 'Los Amgios.' Great chorizo.
Cop #1: That sounds great. What time did you get there?
Gary: Let me see. I started walking from my place at about 7:00.
Cop #2: And how far away do you live?
Gary: About 3 miles, which is why I took my bike.
Cop #1: But you just said you started walking?
Gary: That's right I started walking over to Les Poissons, the French place.
Cop #2: Huh? Didn't you say you were going to 'Los Amigos'?
Gary: I did. It's really good.
Cop #1: What about Les Poissons?
Gary: It's really good.
Cop #2: Did you get a receipt?
Gary: Yup! It's there in my wallet.
Cop #1: [shuffles through the wallet] Is this the one? To a restaurant called The Burger Bar?
Gary: Yup! I drove over there at a quarter after seven last Monday.
Cop #1: Is he putting me on, or am I putting him on?
Cop #2: So, on last Monday, you walked to a Mexican restaurant, biked to a French restaurant, and then drove to a burger joint, all on the same night, during roughly the same time period?
Gary: Of course! The consistent inconsistency proves how true it is.